The Netherlands second World Cup qualifier served to lift the nation's spirits: a 2-0 home victory and the return of football fans to watch their national team from inside the stadium.
Saturday's match also served as a platform to add support to human rights initiatives around the world, calling for improved conditions for migrant workers in Qatar, where next year's finals will be hosted. The Oranje players came onto the pitch wearing black t-shirts with the text 'Football Supports Change', the name of a new campaign in support of human rights. During the entire match, captain Giorginio Wijnaldum wore a special black armband as part of the campaign.
On Wednesday, Norway staged a similar protest before their match in Gibraltar in the same qualifying group G when their players wore white T-shirts with the message: "Human rights, on and off the pitch." The same night saw Germany line up before kick-off in their opening Group J qualifier against Iceland wearing black shirts displaying the message "HUMAN RIGHTS", with one letter per shirt.

Back to Saturday, when as many as 5,000 fans were allowed into Amsterdam's Johan Cruijff Arena. All had been tested negative for COVID-19 before entry. Their attendance was part of a study that could help get fans back into games quicker. The fans were divided into different sections. In some, people were ordered to wear face masks, in others, fans were allowed to go without them and cheer on their team.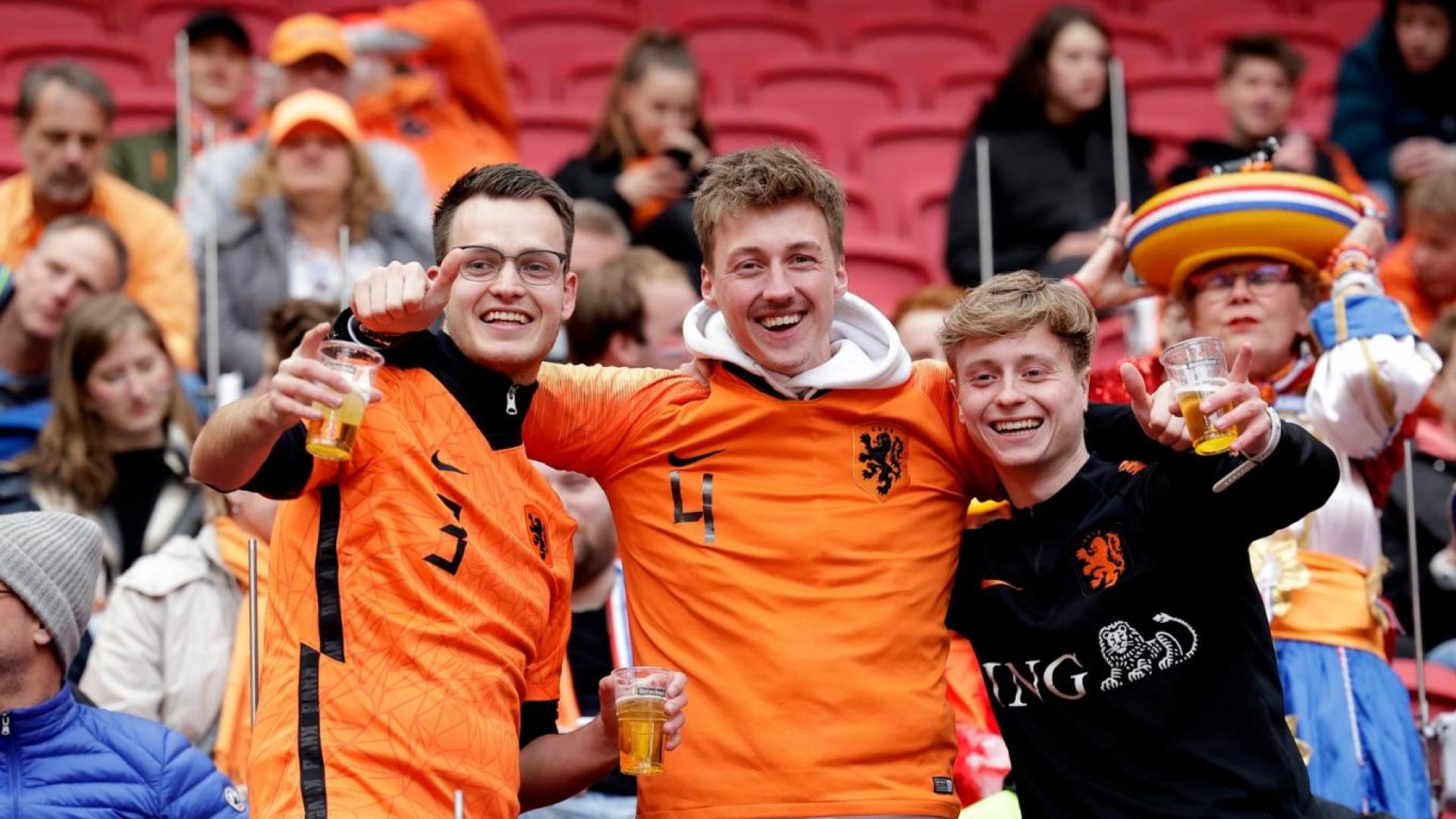 Test for the Euros
"We let people in who could show a negative test result on an app, of course in combination with their match ticket. This is a way it could also work with the clubs (in the Dutch league) and the European Championship," KNVB secretary general Gijs de Jong explained earlier this week. Amsterdam will be hosting several matches in the European Championship in June. Similar studies last month showed promising results. Only one spectator was found to be infected after around 1,300 spectators were allowed into two Second Division fixtures.
There was more good news for Dutch football fans on the day as the national team revived their hopes of proceeding to next year's finals with a comfortable 2-0 victory over Latvia, following their shock defeat in Turkey. Steven Berghuis opened the score on 32 minutes with a signature curled shot from the edge of the box and Luuk de Jong double the lead halfway through the second half with a powerful close-range header.
37 chances
Given their dominance throughout the match resulting in as many as 37 chances, the men in orange should have at least trebled the score. Their captain agreed: "This took a lot of energy, they were very compact and gave away little space. Two attempts hit the crossbar and quite a few shots were blocked on the goal-line. We were unlucky, but it's good that we managed to create this many chances."
The Liverpool midfielder congratulated Berghuis on his first goal for the Netherlands. Wijnaldum enjoyed playing in a partly filled stadium. "It was great to play before a crowd. The last time was with Liverpool in December, before 2,000 supporters. I was disappointed to get substituted tonight, felt that I could have scored a goal, and it was just fun to play this match." The next qualifier, away in Gibraltar, is scheduled this coming Tuesday.
Another 1-1 draw
Later on Saturday night, the junior national team were held to a 1-1 draw by Germany, one of the top favourites to win the European title. It was the second consecutive draw for Erwin van de Looi's men, meaning that only a decisive victory against the hosts, Hungary, on Tuesday will earn them a berth to the quarter-finals.
Justin Kluivert, who scored the only Dutch goal against Germany, feels confident that his team will be able to pull it off in their last Group A match. "I'm proud of my team, we fought very hard and gave little away against a powerful side, apart from that chance right before the end of the match. We now need to win the final match by a wide margin, two or three goals. That is certainly possible."