KNVB football camps
It's the training and preparation ground for all of the Netherlands national football teams. It's where the established and upcoming stars play football, eat and sleep.
The KNVB Campus also has much to offer to amateur clubs, because every new great talent deserves the best facilities. The top-level sports environment contributes to better football players, referees, trainers and coaches.

The KNVB Campus is the central venue where the KNVB meets up with the clubs to discuss ways of developing the game in the Netherlands, both at grassroots and elite levels. The campus is buzzing with activity: it's where new trainers receive their training, match officials look at ways to improve refereeing standards, and KNVB officials meet each other for discussions. It also offers a wide range of medical services for injured football players and other athletes.
Everyone is welcome
Everyone, from amateur to (foreign) top-flight club, is welcome to join a training camp at the KNVB Campus and enjoy hotel accommodation equipped with international standards of comfort and service.
Training camp arrangements
Basic arrangement: from € 120 exclusive of pitch hire fee
Breakfast
Sports lunch
Unlimited coffee, tea and water
Sports meal
Team meeting room
Use of massage room and Team Hotel living room
Storage space at Team Hotel
Use of pitch (max. 2 x 2 hours) and 2 dressing rooms
One night stay at the Hotel Team
Use Team Hotel
Laundry service (one set of sports kits per day)
Supplementary services:
Sports dinner at the restaurant
Team building clinics
Clinic by professional football player or coach
Meeting with professional football player or coach
Medical examination at Football Medical Centre
Cool-down on spinning bicycles
Psychological, nutritional and rehabilitation clinic or counselling
Use on-site swimming pool
Training Centre meeting space
Minibar (drinks and snacks)
Drinks on the pitch: one PET bottle per person per 2 hours of training
Team Hotel
On the extensive KNVB Campus grounds lies the Team Hotel, specifically designed for the senior Netherlands representative teams and the national youth selections. Its 21 rooms and private lounge contribute to the overall team spirit. The hotel's unique and comfortable setting ensures maximum focus during the training programme.
Across the Woudenbergseweg, there are two grass pitches, one artificial turf pitch with a stand, a 'Rinus Michels' dugout, changing rooms and a physical therapy room. The first floor looks like a big football canteen with a bar, a kitchen and several meeting rooms.
Clubs and teams will find a visit to the KNVB Campus both fun and educational at the same time. It is an excellent location for meetings, offering plenty of opportunity for training and relaxation, and providing expertise and inspiration within a professional sports environment.
Interested?
The KNVB Campus will be happy to send you free information. Here are our contact details.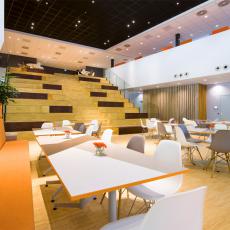 KNVB Campus
Woudenbergseweg 56-58, 3707 HX Zeist, The Netherlands