Johan Cruyff Shield
Every football season in the Netherlands traditionally opens in style with the Johan Cruyff Shield, a match between the winners of the KNVB Beker (Dutch Cup) and the Eredivisie champions. The venue for the curtain raiser was the Amsterdam ArenA. Since 2017, the match has been played in the champions' stadium.
In the event that the KNVB Cup winners also clinch the league title, the Eredivisie runners up will take the place of the champions. This happened in 1998 and 2002 when Ajax won 'the double', and in 2005 when PSV took both titles.
Name changes
The series of encounters between the cup winners and the league champions started in 1991 under the name PTT Telecom Cup. Three years later, the competition was renamed Super Cup and in 1996, the format was changed to the current set-up under the name 'Johan Cruijff Schaal' (Johan Cruyff Shield).
PSV Eindhoven have been the most successful side since 1991, lifting the trophy as many as ten times. They're followed by Ajax (eight titles), Feyenoord and FC Twente (two each) and one-time winners FC Utrecht, AZ Alkmaar and PEC Zwolle.

SVV Schiedam should also be included in the list, because the first Super Cup match was played on 25 June 1949. The league champions SVV beat cup winners Quick Nijmegen away at the Goffertstadion 2–0.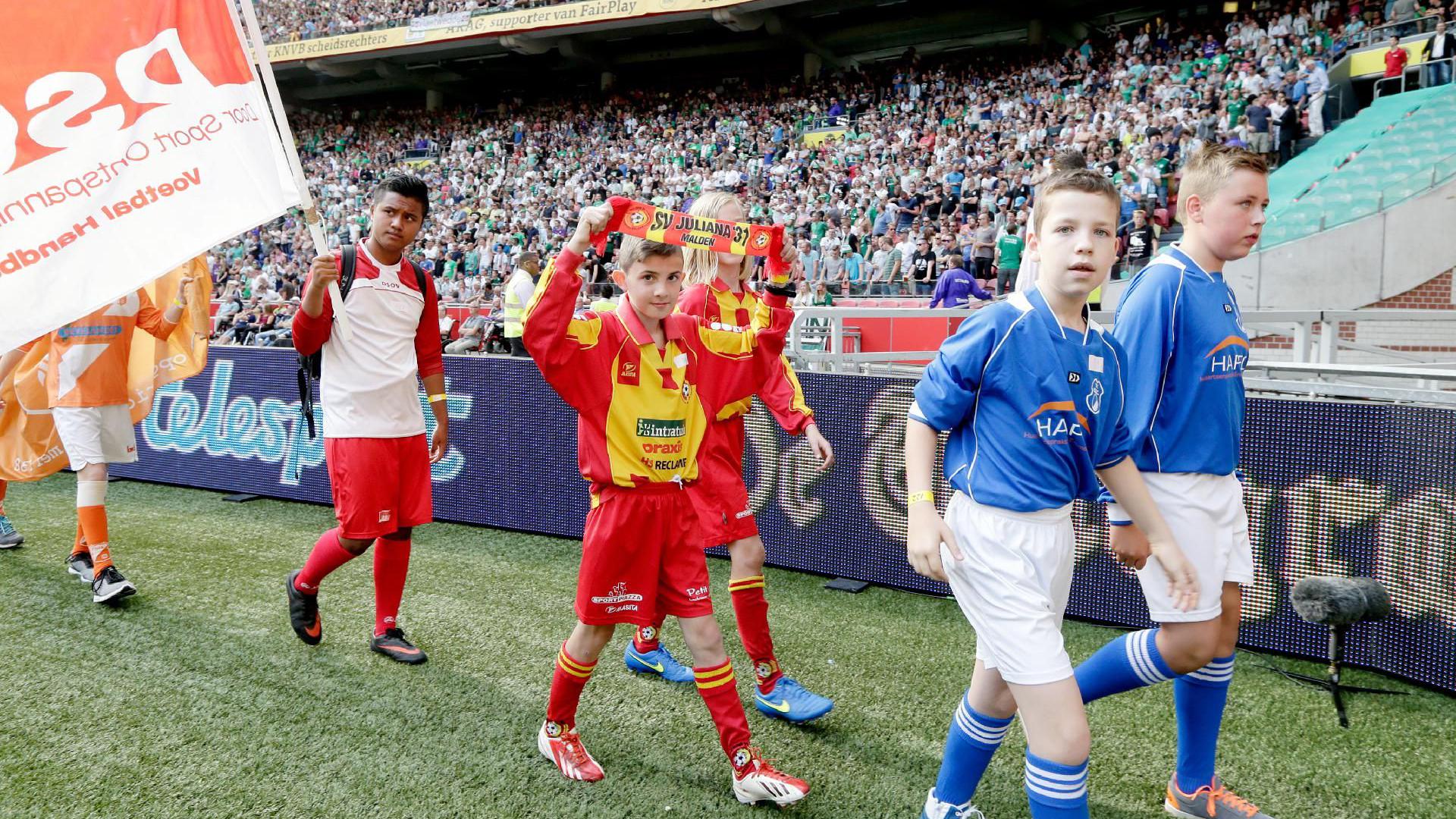 Champions
The Johan Cruyff Shield is also held to celebrate youth team champions, who parade through the stadium. The annual event isn't only for professional champions, all amateur champions are also invited to attend the season opener.
| Year | Winners | Name of the trophy |
| --- | --- | --- |
| 2018 | Feyenoord | Johan Cruijff Schaal XXIII |
| 2017 | Feyenoord | Johan Cruijff Schaal XXII |
| 2016 | PSV | Johan Cruijff Schaal XXI |
| 2015 | PSV | Johan Cruijff Schaal XX |
| 2014 | PEC Zwolle | Johan Cruijff Schaal XIX |
| 2013 | Ajax | Johan Cruijff Schaal XVIII |
| 2012 | PSV | Johan Cruijff Schaal XVII |
| 2011 | FC Twente | Johan Cruijff Schaal XVI |
| 2010 | FC Twente | Johan Cruijff Schaal XV |
| 2009 | AZ | Johan Cruijff Schaal IXV |
| 2008 | PSV | Johan Cruijff Schaal XIII |
| 2007 | Ajax | Johan Cruijff Schaal XII |
| 2006 | Ajax | Johan Cruijff Schaal XI |
| 2005 | Ajax | Johan Cruijff Schaal X |
| 2004 | FC Utrecht | Johan Cruijff Schaal IX |
| 2003 | PSV | Johan Cruijff Schaal VIII |
| 2002 | Ajax | Johan Cruijff Schaal VII |
| 2001 | PSV | Johan Cruijff Schaal VI |
| 2000 | PSV | Johan Cruijff Schaal V |
| 1999 | Feyenoord | Johan Cruijff Schaal IV |
| 1998 | PSV | Johan Cruijff Schaal III |
| 1997 | PSV | Johan Cruijff Schaal II |
| 1996 | PSV | Johan Cruijff Schaal I |
| 1995 | Ajax | Supercup |
| 1994 | Ajax | Supercup |
| 1993 | Ajax | PTT Telecom Cup |
| 1992 | PSV | PTT Telecom Cup |
| 1991 | Feyenoord | PTT Telecom Cup |