EURO 2020 came to an abrupt end for the Netherlands after they suffered a shock 2-0 defeat against a solid Czech side. A red card for defender Matthijs de Ligt turned the tables early in the second half and handed victory to the Czechs on a platter in Sunday's Round of 16 match.
The thousands of orange-clad fans who had travelled to Budapest had been in a festive mood all day, showing their enthusiasm in a positive way. But after 55 minutes into the game, the world suddenly looked very different when Matthijs de Ligt slipped and touched the ball with his hand as he went down following a push from Czeck striker Patrik Schik.
Red card
De Ligt initially received a yellow card, but after the VAR advised the Russian referee to have a second look on the pitchside monitor, the booking was upgraded to a red card. Apparently, his interpretation was that the Dutch defender deliberately handled the ball to deny Schick a goal-scoring opportunity.
The foul was made right after a perfect goal-scoring opportunity on the other side when Donyell Malen found himself with a free run on goal after a subtle flick from Memphis Depay, but failed to trick the Czech goalkeeper.
Down to ten men, the Oranje tried to make the best of a bad situation, but saw their opponents take the lead in the 68th minute, with Tomas Holes heading the ball home from close range. The decider came ten minutes before the end of regular playing time when Patrick Schick took his Euro 2020 tally to four goals with a left-footed strike from inside the box.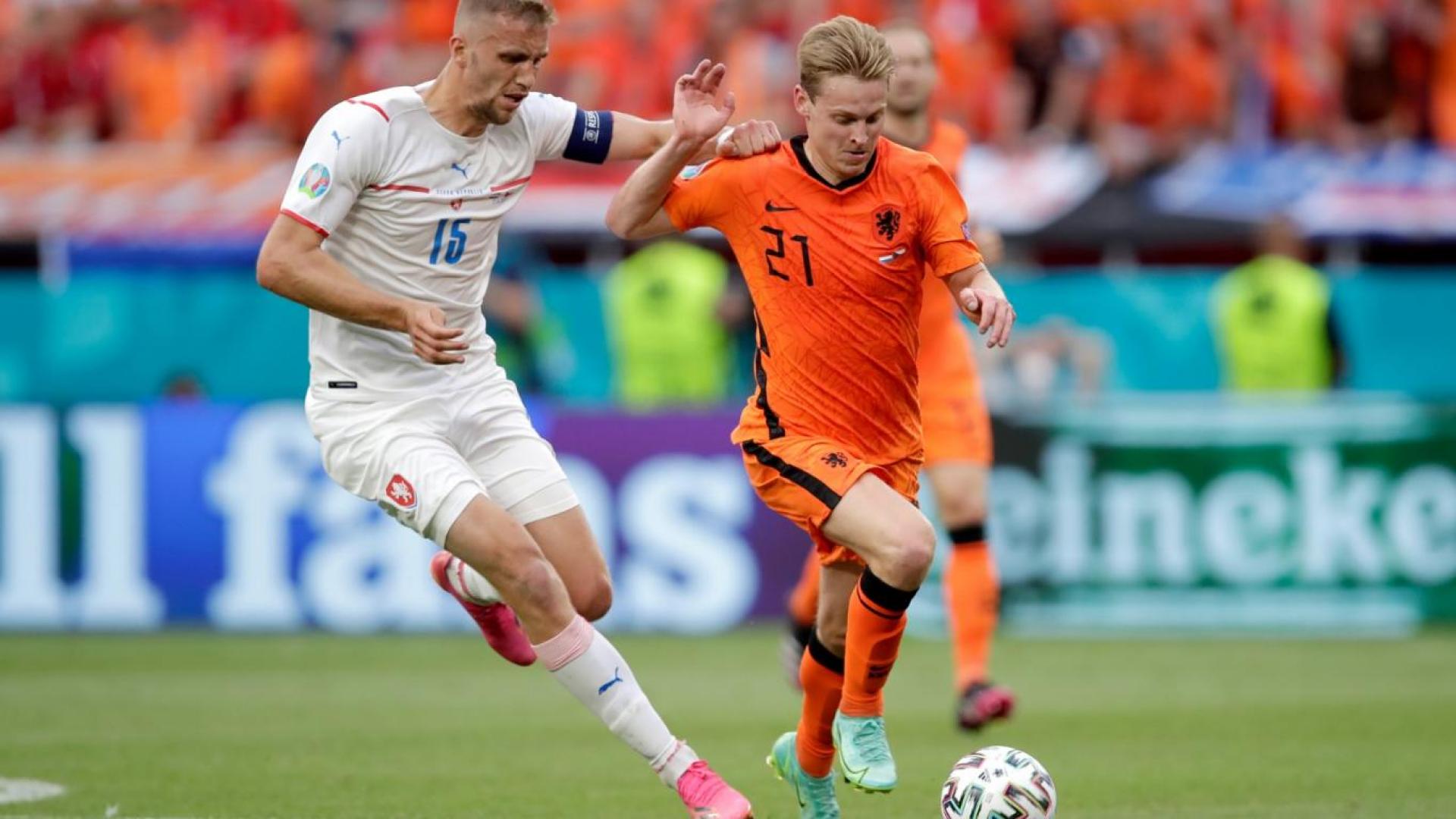 Disappointed
Naturally, there was deep disappointment among the Netherlands squad and among the 'orange legion' in the stands, but captain Georginio Wijnaldum conceded immediately after the match that his team had never really got into their game.
It's a strange feeling that it's all over now
"We let our opponent make their goals too easily and missed a clear chance ourselves. We were powerless after the red card, but even before that decisive moment, we found it hard to put pressure on the Czechs. We failed to come up with creative solutions when we had possession. It's very painful that one unfortunate action prompted a sending-off that made it even more difficult for us to keep the ball within the team. And it's a strange feeling that it's all over now."
"As this tournament progressed, we had the feeling that we were growing as a team. There had been a lot of criticism beforehand, which we managed to turned around to something positive during the group stage. This makes it even more painful to pack our bags and go home, but that's the reality of the story."