The difference could hardly be bigger: Tuesday's final European Championship qualifier against Kosovo was of a completely different calibre than the encounter with world champions USA a few days earlier. But the two matches had one thing in common: they clearly showed where the Orange Lionesses stand in their development.
After twelve unbeaten games in a row, the Netherlands suffered defeat to the United States on Friday, by the same score as in last year's World Cup final. Significantly, the Netherlands created just one chance and only managed to put up some opposition to the reigning world champions in the second half.
Billed as a rematch of the world cup final and 'a good test of where we stand at the moment', the friendly against the USA turned out to be a sobering experience. "Of course this was a very strong opponent, but they got their chances because we made a few mistakes", playmaker Jackie Groenen told Dutch media.
A matter of guts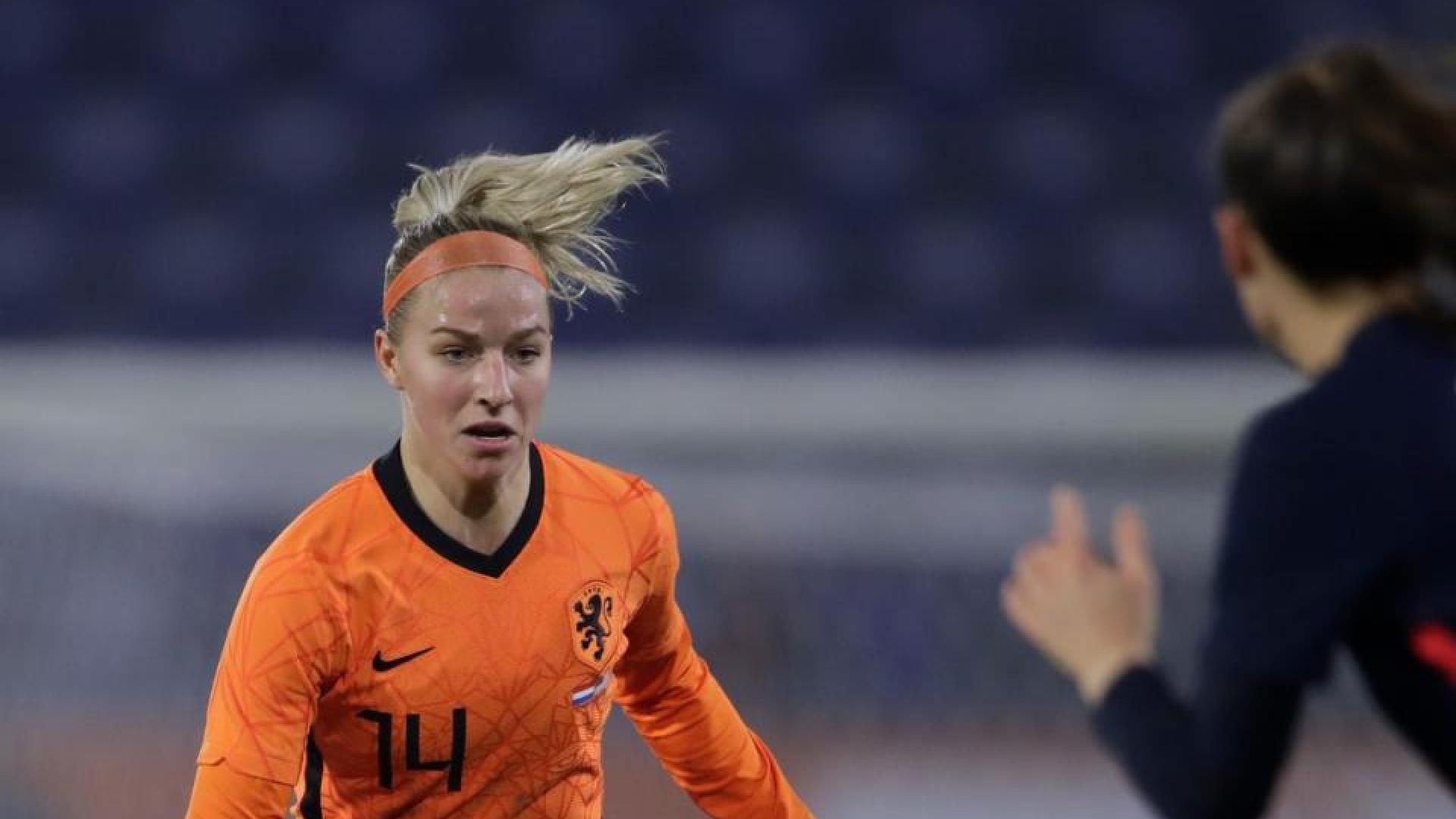 "This has to do with accuracy and perhaps with showing some guts. Don't forget that we played with a number of new girls," Groenen added, referring to substitutions for injured key players like all-time top scorer Viviane Miedema and seasoned defenders Anouk Dekker and Stefanie van der Gragt. Also absent, due to personal circumstances, was manager Sarina Wiegman.
"We showed some good moments tonight - we should not forget that either," Groenen said, keeping her spirits up. Besides, this had been a friendly, not a World Cup final. Nonetheless, Friday's one-sided friendly will have given the Netherlands coaching staff some food for thought. Evidently, there's still a wide gap between the numbers four and one in the FIFA rankings. There is still some work to be done ahead of next year's Tokyo Olympics.
A second test
Seen in this light, the final match in Group A of the UEFA Women's Euro 2022 qualifying competition could have been regarded as another test for the Orange Lionesses, and another chance to improve their game. Time for experimentation, for some new blood, given that the squad had secured qualification for the European Championship final tournament six weeks ago. Of course, the entire team remained keen to end top of Group A without dropping a single point.
Kosovo, though, initially proved a hard nut to crack. The first-half stats say it all: 78% possession and 13 shots for the Dutch against zero shots for Kosovo. Half-time score at the Rat Verlegh Stadion in Breda: a disappointing 0-0 after a relentless barrage of Netherlands attacks that lasted 48 minutes. The Kosovar defence, propped up by young goalkeeper Florentina Kolgeci, remained defiant.
Six goals
After the break, it didn't take long before the hosts broke the defensive wall. Fifteen minutes into the second half, the Netherlands found themselves firmly in the lead. Jill Roord converted a free-kick after Katja Snoeijs opened the score from close range. A subtle Lieke Martens strike from the edge of the box made it 3-0.
After another 15 minutes, the Kosovo defence collapsed and two more goals by Snoeijs and another Roord strike made it 6-0. A fitting end to an impressive qualifying campaign, in which the Netherlands won all their ten matches, scoring an average of nearly five goals per game.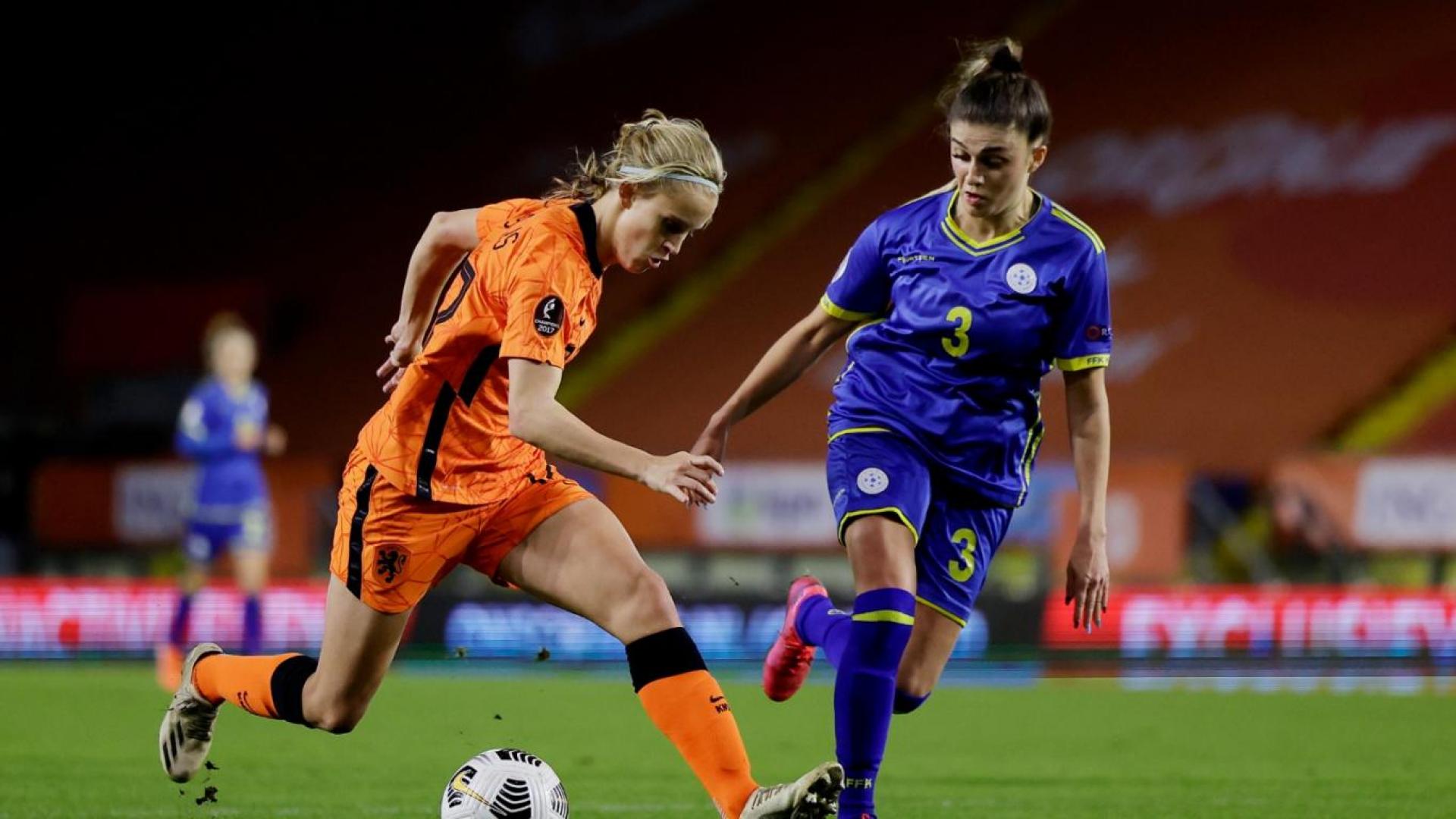 Snoeijs expressed delight at her second hat-trick against Kosovo. "We were quite frustrated after the first period," she told reporters. "But we knew Kosovo wouldn't be able to keep it up. The opener took the pressure off and gave us the freedom to play our game. We'll have a break now and will see each other again in February to prepare for the Olympics."
Captain Sherida Spitse braces herself for some more opposition in a final tournament. "We're looking forward to playing some real matches. This was a very one-sided affair."