The Orange Lionesses consolidated their lead in World Cup qualifying Group C with a 2-0 away victory in Minsk on Tuesday evening. Lieke Martens and Danielle broke through the Belarus defences well into the second half to give the Dutch their well-deserved three points.
On a cold night at a virtually empty Dinamo National Olympic Stadium, Belarus proved to be a tough opponent for the Netherlands. The leaders in Group C sorely missed their all-time top scorer Vivianne Miedema, who was given rest amid a busy schedule. Her replacement, Jill Roord, worked hard in striker position, but failed to create much danger.
Despite their dominance and heavy ball possession, the Dutch didn't quite manage to control the first half. Their offensive game was slow, restless and sloppy at times. It was simply not enough to overcome the defensive and disruptive tactics of the hosts. Mark Parson's women created a handful of chances, but never good enough to score a goal. Nil-nil at half time, who would have predicted that against the number 53 in the FIFA World Ranking?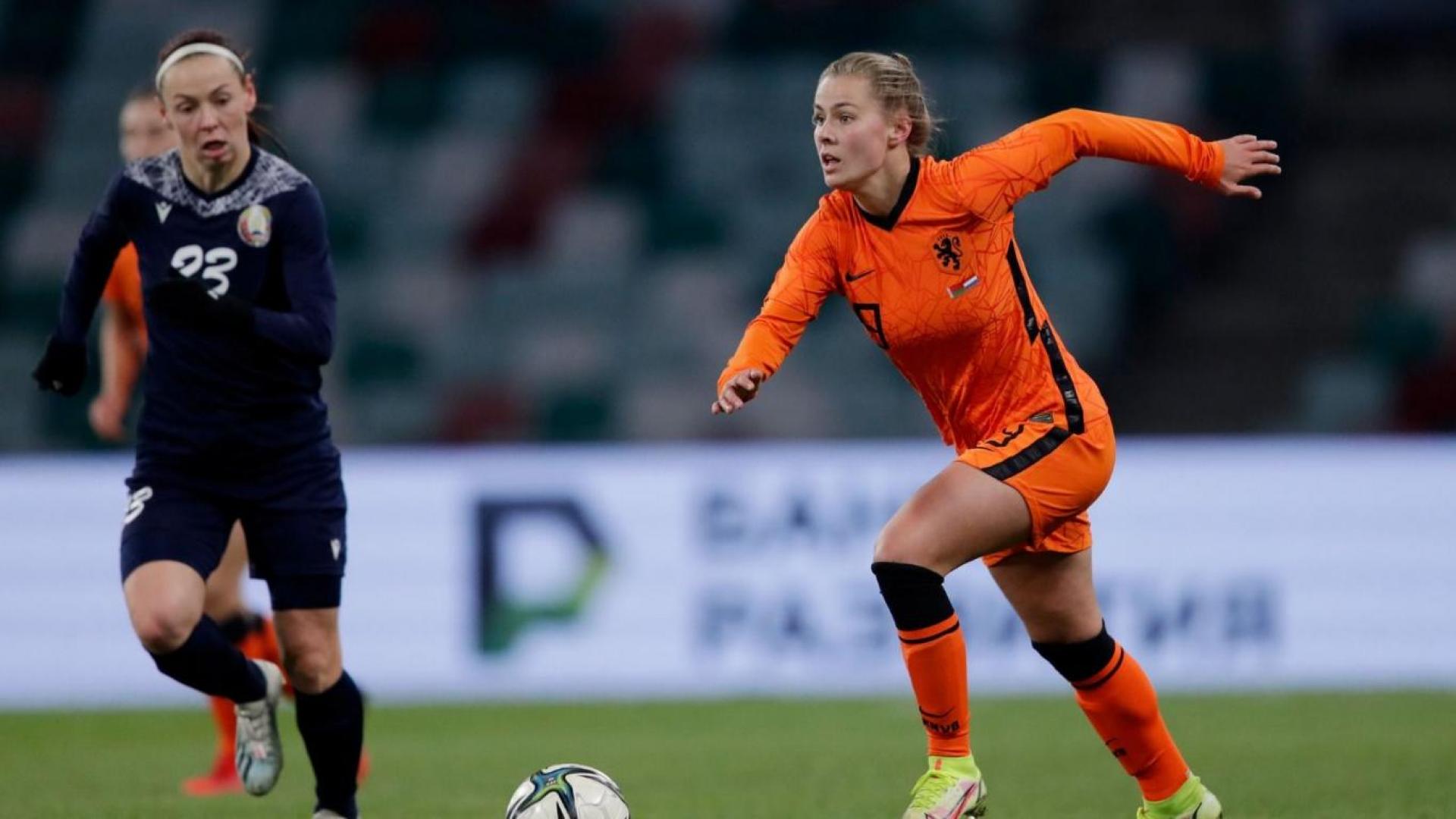 Technical skills
After the break, the guests finally managed to exploit their technical superiority and create some space in the opponent's half, with Lieke Martens opening the scoring on 71 minutes with a subtle high strike inside the far corner. Four minutes later, Daniëlle van de Donk converted a Joëlle Smits cross with a flying header just past the near post.
The statistics were telling: 65 percent ball possession and only two goals out of 32 attempts. After the match, Van de Donk expressed satisfaction with her goal but not with the overall performance on the night:
"This was a tough game and we mainly have ourselves to blame. We just made it too easy for our opponents: we lacked speed and accuracy and just failed to reach our level. In other words, there's plenty of work to be done."
Czech rivals are next
The Orange Lionesses will play their next World Cup qualifier away against their main rivals, the Czech Republic, on 26 November.
The ninth edition of the World Cup finals will be played in Australia and New Zealand in July/August 2023. The nine European group stage winners qualify directly for the World Championships, while the nine runners-up will compete in play-offs in October 2022 to decide who will capture the remaining two (European) World Cup tickets.