Racism and discrimination are societal problems that are unfortunately present in football and should cease. Following the racist chants during the Keuken Kampioen Divisie game between FC Den Bosch and Excelsior on 17 November 2019, the KNVB decided to join forces with the government and to develop an intensive and necessary approach to act against racism. This resulted in the plan titled 'Ons voetbal is van iedereen' which translates to 'Our football belongs to everyone".

At the end of November 2019, Netherlands Prime Minister Mark Rutte, Minister of Health, Welfare and Sport Bruno Bruins and Minister of Justice and Security Ferdinand Grapperhaus met with KNVB directors Eric Gudde (in charge of Professional Football) and Jan-Dirk van der Zee (Amateur and Women's Football) at the KNVB Campus in Zeist.
During the two months following this meeting, experts from within and outside of the football world and members of the national government worked hard to reach a concrete national-wide approach for amateur and professional football. In alignment with the Eredivisie, Keuken Kampioen Divisie and social interest organisations a powerful multi-year policy programme is developed.
Three components
The plan, which started in the beginning of February this year under the name 'Our football belongs to everyone', includes three types of action: prevention, identification and sanctioning.
Most people in our society do not have the intention to hurt others deliberately. In these cases, information, dialogue and awareness are able to change the behaviour of people in a positive way. This is a main component, certainly if positive behaviour is rewarded and good examples are highlighted.
Sometimes is hard to signal racism and discrimination on the stands or amateur pitches. Often it is hard to prove who is to blame. Investments will be made to ensure that reporting, signalling, finding proof are possible, and personal data is available, because these are the necessary elements to act against those who violate norms and standards.
Perpetrators of racist behaviour must be punished. This also applies to discrimination in football. We will, therefore, punish those who are guilty of discrimination in all legal ways possible. The emphasis will be on punishments that will lead to awareness and change of behaviour.

The foregoing plan establishes a package of twenty measures and interventions that are executed together with all involved parties. The next three years, the government and the KNVB will invest more than fourteen million euro in this plan of action.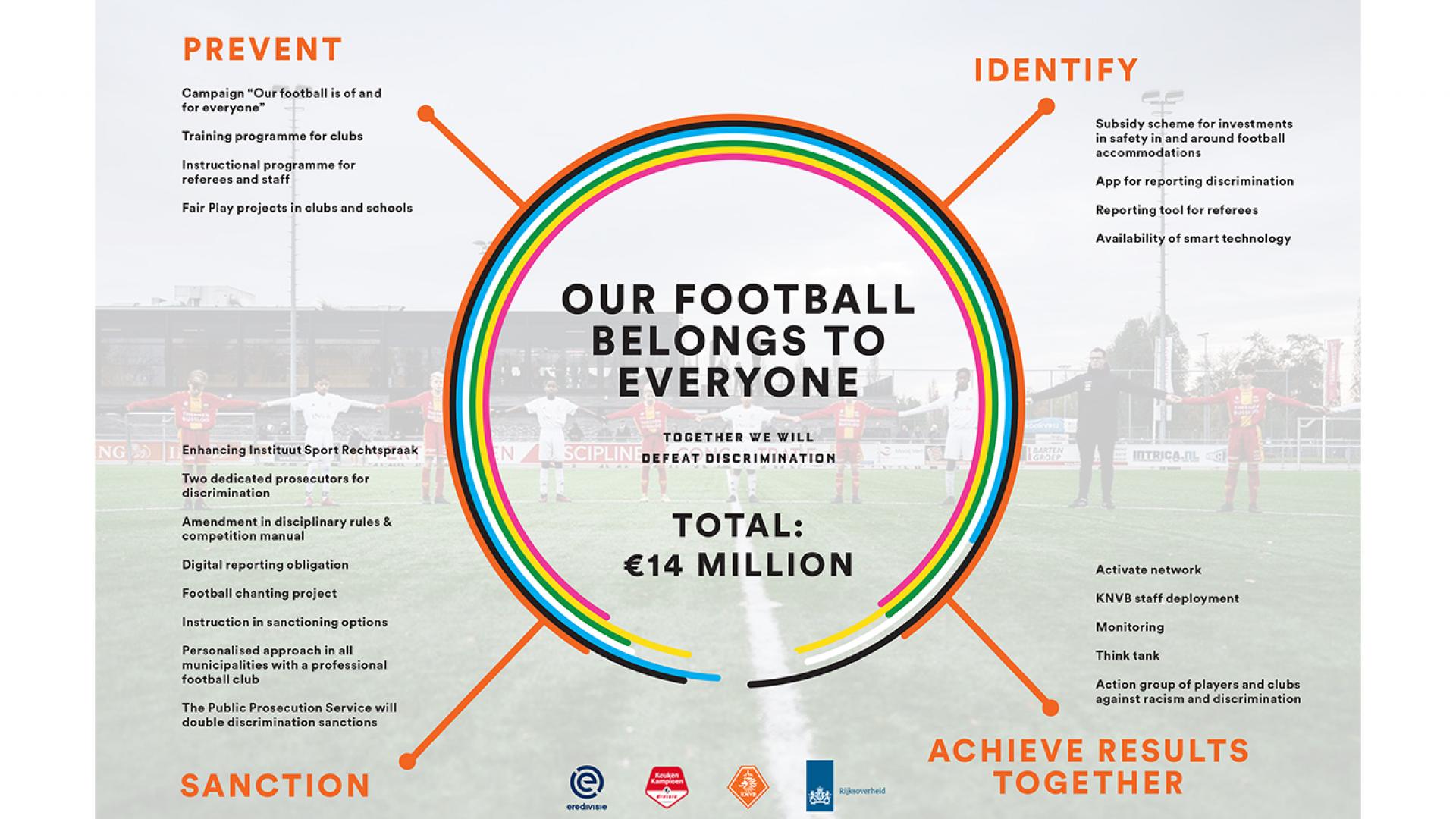 Let's get started together!
This central approach goes further than solely these measures. De KNVB, Eredivisie and Keuken Kampioen Divisie, players, coaches, referees, clubs, supporters, social organisations, government, and football lovers collaboratively want to give impetus to a positive movement. It will be facilitated to be able to join the conversation. Moreover, clubs, trainers, players and other officials will be assisted and supported. This will lead to a joint force against racism and discrimination. Football is a binding factor that connects countless of people with different backgrounds. Together we will protect it.
Download the action plan: