The KNVB has renewed its collaboration with the CFA. Last Tuesday, both football associations signed a four-year agreement that will run until 2023. Secretary-General, Gijs de Jong, travelled to Beijing to represent the KNVB and ratify the Memorandum of Understanding (MoU).
De Jong was accompanied by Michael van der Star (Manager International Relations & WorldCoaches) during the signing ceremony. Cai Yong (Executive Committee Member) signed the agreement on behalf of the CFA. The previous Memorandum of Understanding between the KNVB and the CFA was ratified in 2013 - within the context of a friendly match between the Dutch and the Chinese national team in China - and expired last year.
Cooperation on four fronts
In October 2018, after the expiration of the previous MoU, De Jong and Van der Star travelled to China to conduct introductory meetings with the new representatives of the Chinese association. During these meetings both associations discussed the fields on which cooperation would be possible. The representatives agreed on the following four themes:
Video Assistant Referee (VAR)
Match organisation of national (youth) teams
Coach and Referee training programmes
Development of women's football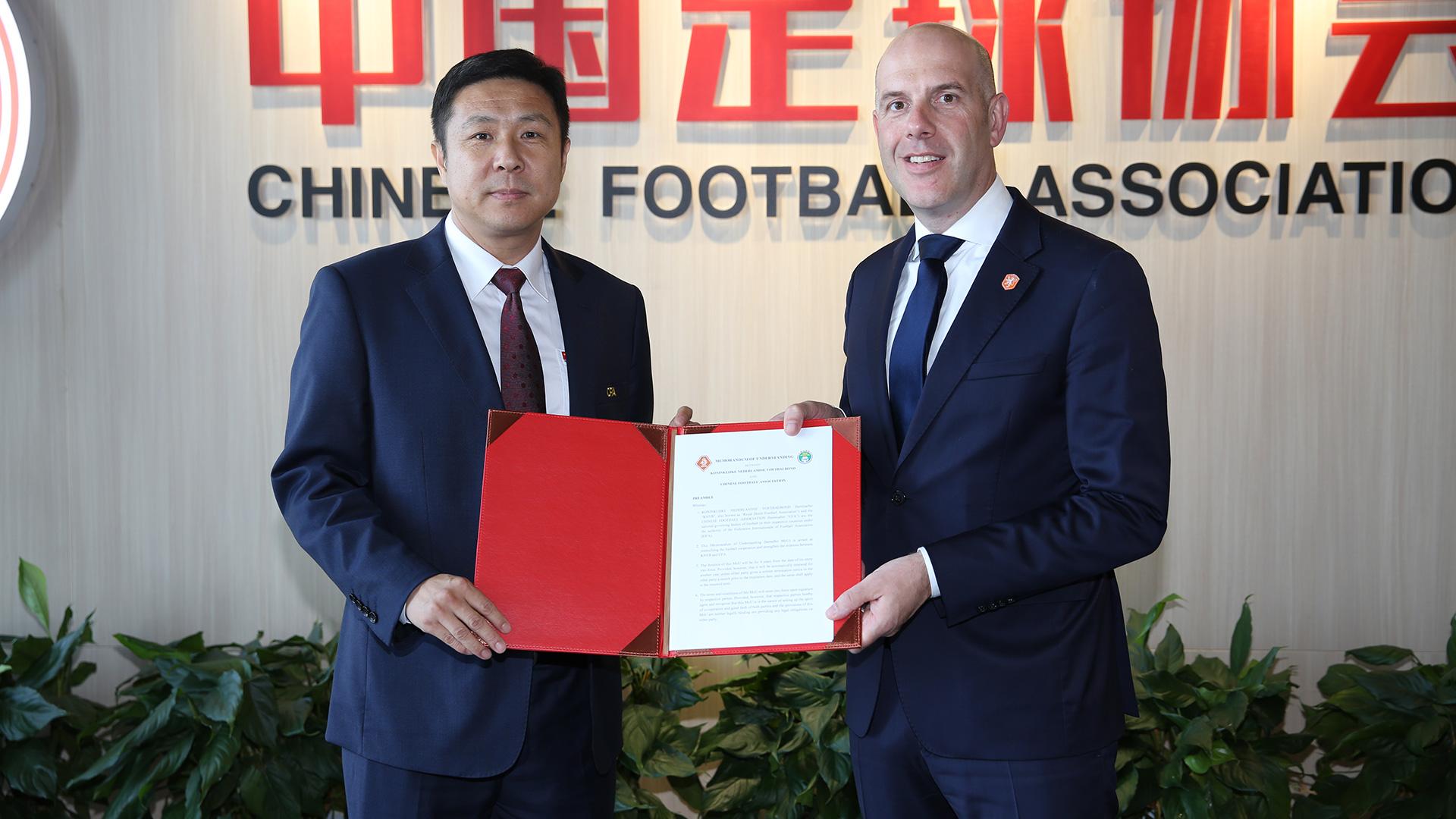 Kick-off WorldCoaches courses
After the official signing of the MoU the Dutch delegation had the opportunity to meet the staff of Technical Director Chris van Puyvelde. On Wednesday the delegation will visit the Dutch embassy and the Beijing Sports University. On Thursday, the representatives of the KNVB will conduct a working visit in the province of Henan, where two WorldCoaches courses will be initiated. These courses, under the leadership of instructors Roger Schouwenaar and Jan Derks, are organised in collaboration of the government and the Henan Normal University.
Gijs de Jong sees many opportunities in the new cooperation with the Chinese Football Association. "This is in line with the proactive international strategy that the General Assembly adopted last year. We are proud to be able to run a modest, but promising pilot at the Henan Normal University. If this pilot is successful, it could well be the start of an extensive and far-reaching cooperation. Furthermore, thanks to the current pilot we have been able to start a dialogue with interesting organisations such as the Beijing Sports University and catch up with the Dutch embassy in China."