Dick Advocaat will not renew his contract as per 1 December, "I'm stopping because I think it's time for another generation," the 70-year-old Netherlands coach told reporters after his team beat Romania 3-0 on Tuesday night. . "There is no doubt in my mind: it's time for younger people, it's time for them to make things work," Advocaat explained in Bucharest.
On Monday 8 May came the news everyone had been waiting for: for the third time in his career, Dick Advocaat was taking the Netherlands national team under his wing. Together with his assistants Ruud Gullit and Fred Grim, he was to turn around Dutch fortunes and steer the Oranje to the 2018 World Cup in Russia after all.
A tough job, but Advocaat firmly believed that he would succeed. "A great challenge," he called it upon his appointment. "The goal - qualification for the 2018 World Cup - is difficult, but not impossible. Everything is still open. We can beat everyone, including France. We have to radiate that belief."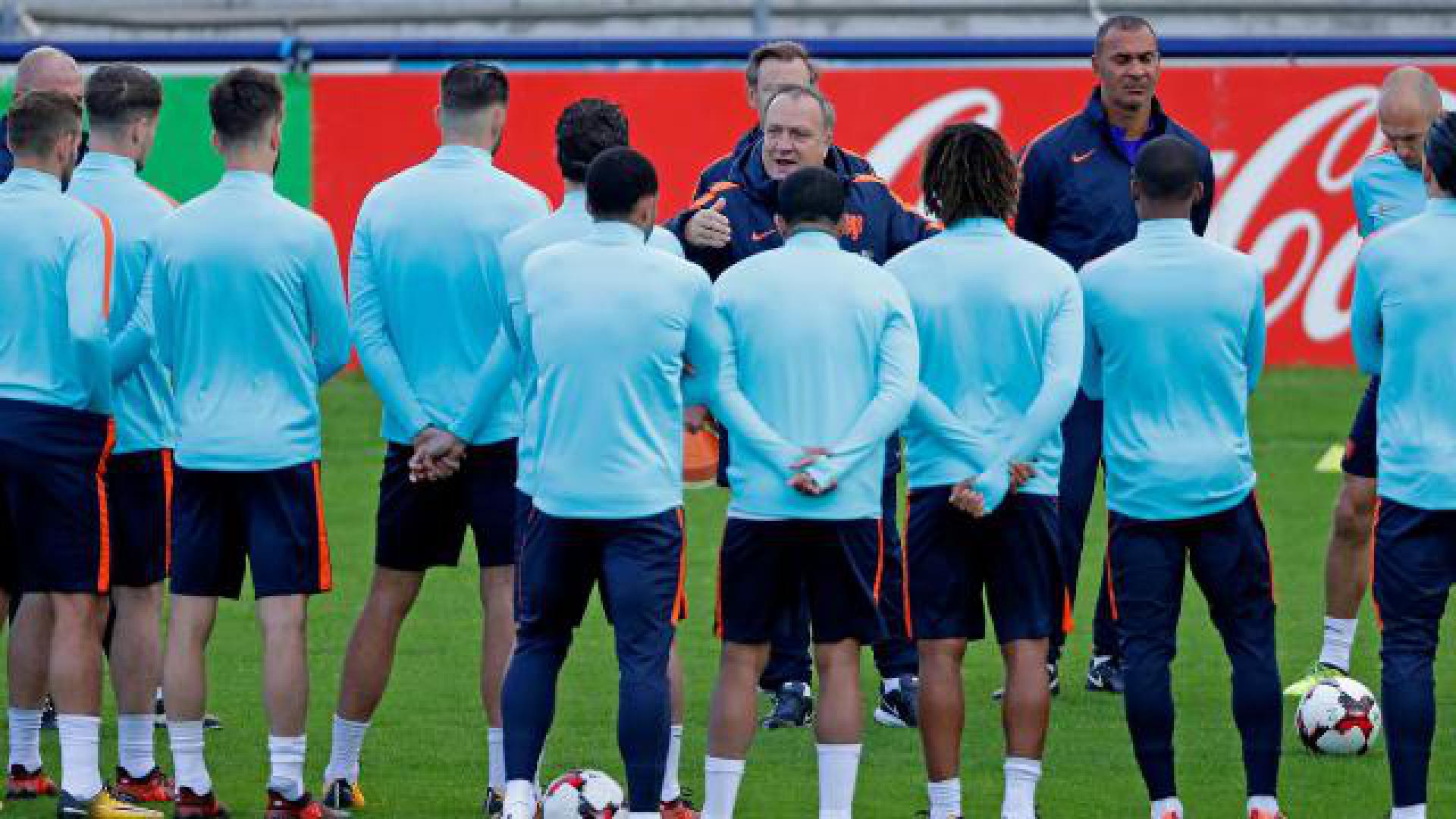 Successful return
With that positive approach, the Netherlands team took on Luxembourg in the next key qualifier, with Advocaat and Gullit together on the bench for the first time. The two previous matches, friendlies against Morocco and Ivory Coast, had been led by Grim and had ended in victory for the Dutch. That winning run continued against Luxembourg, with a convincing 5-0 victory.
A nice start for the new manager, but Sweden's surprise victory over France suddenly changed everything in qualifying Group A. Nonetheless, Advocaat gave it a positive turn. "We have to go for first place now," he said. "The next two qualifiers against France and Bulgaria after the summer break will be very important."
No chance in France
In a packed Stade de France, the Netherlands stepped on the pitch in late August to meet France. Anyone who had hoped that the Orange could upset the hosts that Thursday night, was to be disappointed. Not only did the visitors lose without a chance, the 4-0 defeat also dented their goal difference.
Five days later, the Dutch took on Bulgaria in the Amsterdam ArenA. If the Oranje still intendedto retain any hope of going through to next year's World Cup, they just had to win this match. And they did. Davy Pröpper score two goals to down Bulgaria 3-1. But again, the Swedes put up a nasty surprise. Playing in Minsk, they managed to beaten Belarus 4-0, further complicating matters for Advocaat and his assistants. Their task had become more difficult.
Disaster strikes
The Netherlands now needed to win both remaining World Cup qualifiers by the highest possible margin. But even before Orange had kicked off in Belarus, disastrous news came in from Solna, where Sweden had trounced Luxembourg 8-0, virtually obliterating Dutch chances of proceeding to the World Cup. "We're not throwing in the towel yet," Advocaat said in characteristic fashion, keeping up the fighting spirit. But the Netherlands' eventual 3-1 victory over Belarus didn't look all that promising.
Still, Advocaat kept hoping for a miracle, probably against better judgment. "Because if you start off by saying 'this is not going to work', then you might as well give up and not play at all," the national coach remarked. The Netherlands certainly tried, but eventually came no further than a 2-0 home victory over the Swedes. The story was over: the Netherlands had missed out on the next World Cup.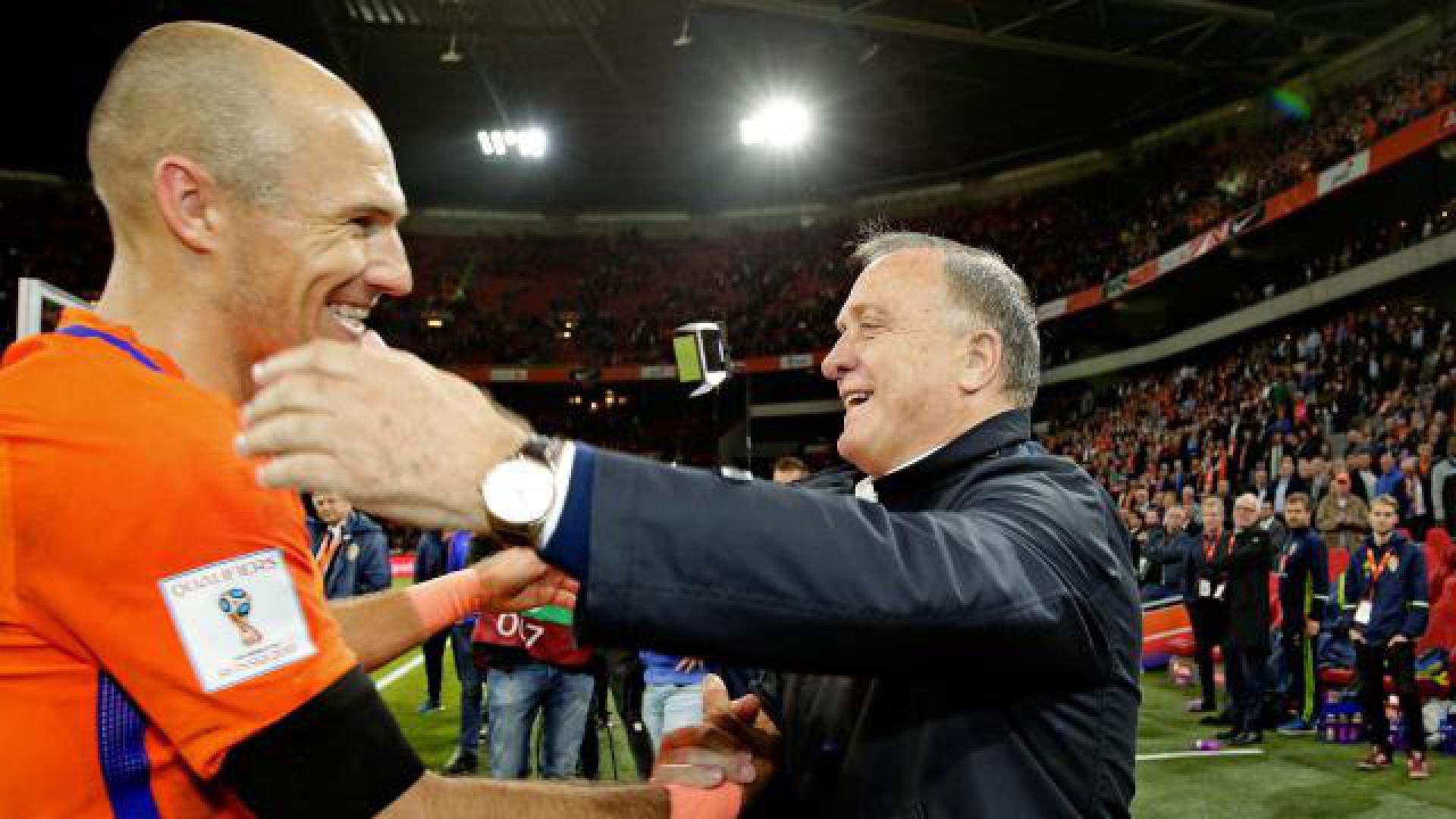 Friendlies
After the elimination against Sweden, the Netherlands went on to play two international friendlies under Dick Advocaat's stewardship. In Scotland, the Netherlands emerged victorious by the smallest of margins, and five days later, they also triumphed in Romania: 3-0. These were international victories number 36 and 37 for Dick Advocaat, who now tops the list of national coaches with the most victories for the Oranje.