The KNVB has signed a cooperation agreement with the German Football Association (DFB). The presidents of the two associations put their signatures to a Memorandum of Understanding prior to Friday's European qualifying match between Germany and the Netherlands in Hamburg.
On behalf of the KNVB, Michael van Praag (Chairman), Gijs de Jong (Secretary General) and Eric Gudde (Director of Professional Football) were present to ratify the two-year agreement. The German Football Association was represented by Secretary General Friedrich Curtius and Vice Presidents Rainer Koch and Dr. Reinhard Rauball, who currently also hold the position of acting President.
Knowledge exchange
The partnership between the KNVB and the DFB will focus on the exchange of knowledge and expertise in a range of areas. Representatives from the two associations will meet twice a year – alternatively in Germany and the Netherlands - to exchange knowledge, share experiences and learn from each other's approaches to management, technical issues, and development and innovation. If desired, collaboration may be expanded to other areas.

"On the pitch, the DFB and the KNVB are rivals, as is the case in Hamburg today," KNVB President Michael van Praag said. "But away from the pitch, we're working together very closely and constructively and we maintain friendly ties. We have now strengthened those ties with this Memorandum of Understanding."
Friendly spirit
"The KNVB has signed more of those MoUs around the world. In this case, we have two leading football associations working together to advance the game, keen to learn from each other, as a signal to the rest of the football world that taking mutual responsibility is essential. We are very happy with this agreement with our neighbour."

DFB Vice President Dr. Rainer Koch: "With this MoU, we not only strengthen our ties with our neighbours, but we also underline the friendly nature of these ties. We look forward to a constructive exchange with the KNVB. "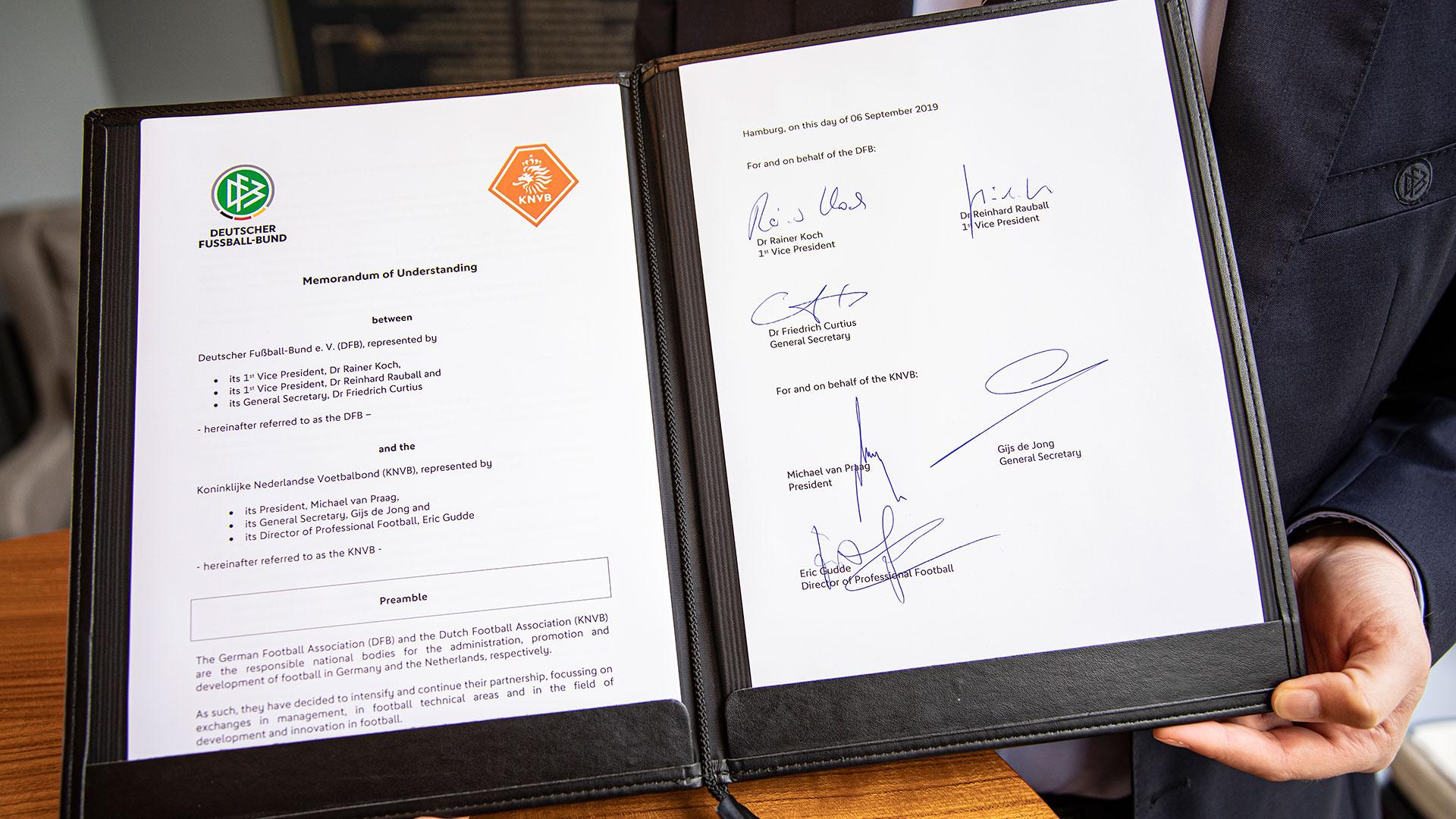 The KNVB has previously signed similar agreements with a number of 'fellow football associations', including those of China, Iran, Cape Verde and Qatar. These collaborations are in line with the KNVB's international engagement and focus primarily on development programmes in the countries concerned. These include courses to train coaches or programmes designed to develop women's football.